Congratulations!
Members who took personal action and bid or pledged for the 2014 National Festival to be hosted in Region 8 have won the bidding process for this event!
The Finance Committee and Board of Directors will review the bidding results and announce the official site selection for 2014 following their January meetings.
Thank you all for expressing your member ownership in the Federation through your personal participation in the 2014 bidding process.
Bidding for the 2015 National Festival Destination will open soon. Check back soon!
Bidding ended [fergcorp_cdt_single date="12/31/2013″].
Dates: JULY 17-20 2014 (Fri-Sat)
Location: SALT LAKE CITY, UT Bid today!
You cannot lose with the Federation's Bidding Policy regardless of where or when the Festival is held and in appreciation of your participation in the bidding process you earn 25% on every dollar you bid!
Region 8 Destination 2014
$10,799.00 / $15,000.00
[ratings]
Region 8 (AZ, CO, ID, MT, UT)
Congratulations!
Region 8 Has Won Hosting Privileges For The 2014 National Festival!
.
Highlights Of The National Festival Experience You Have Won!
---
Potential Venues (AZ, CO, ID, MT, UT) – Suggest Others in Comments Below
Come and visit beautiful Salt Lake City, UT, in the heart of the Rocky Mountains. Direct flights are available from most US cities and you can just hop onto a train and you'll be dropped off at the Little America Hotel, the proposed venue in downtown Salt Lake City.
There you will be in walking distance to all of the main attractions downtown Salt Lake has to offer.
Venue:  http://saltlake.littleamerica.com/
Little America Hotel has earned the prestigious AAA Four Diamond Award for 2013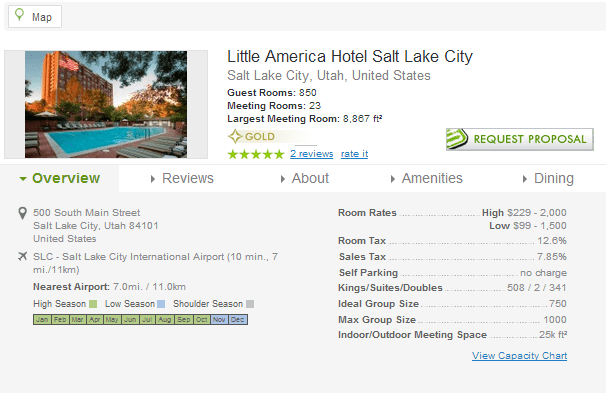 Your Region 8 Hosts